Annual Business Meeting and Legislative Update on March 4, 2016
John Austin director of the Michigan Economic Center at Prima Civitas Foundation was the keynote speaker. Mr. Austin spearheads efforts to transform Michigan's economy, and make Michigan a leader in the coming "Green and Blue" sustainable economy of the future—harnessing our expertise to create new products, jobs and services in New Agriculture, Clean Energy, Smart Water, and New Mobility--all fast growing, globally pressing areas of work and market opportunity. GreatSouthwest_SustainableBusinessforum.pdf
8.3 MB

Paula Bartholome of Edible Michiana was award the Annual Sustainability Award.

A special thank you to event sponsors M-TEC at Lake Michigan College and The Inn at Harbor Shores.





Green Coffee - Infusco Coffee Roasters
Located in Sawyer, Michigan Infusco welcomed the group to Green Coffee with donuts – double chocolate and maple bacon – made by Green Bush Brewery. What started as a hobby of roasting coffee beans for Rich Siri and his family has turned into a spectacular local phenomenon. Siri and his staff work directly with Farmers in Costa Rica, Brazil, Honduras, and many other countries to obtain the best coffee beans possible. "This business is all about the relationships we have with our partners", says Siri. The economic sustainability of the Farmers and their families plays a huge part in decisions made at Infusco. The beans are roasted on site in Sawyer. Visitors can watch the roasting take place, all while enjoying the tastes and aromas at Infusco Café. Thank you to Rich Siri and his crew at Infusco for hosting Green Coffee. Please allows us to 'espresso' our appreciation for letting us 'java' a look inside the daily 'grind' of the coffee roasting world!


Container Home Tour in October and December 2015.
Green Span Construction of Benton Harbor has transformed an intermodal steel building unit, or shipping container, into a livable dwelling. The first tour offered of this home earlier this year was a huge success. Owners Shane and Vicki Franks were graciously opened up their home – their Container Home – once again to the Sustainable Business Forum and guests for a guided tour. We had a great time thank you Green Span Construction!



We hosted a Greening your Business Seminar in October 2015

We presented on ways to form a Green Team, start a recycling program at work, explore energy and water use, or employee wellness to create a healthier workplace. The Greening your Business Seminar gave us the tools to get started down that greener pathway. This ½ day seminar had something for everyone, for every type of business, big and small. Experts from around West Michigan clarified what "Greening your Business" means, gave us step-by-step instructions to take ideas and put them into action, and demonstrate successful stories from local businesses.

Fall Wine & Brewery Tour in September 2015

We had fun exploring all of what southwest Michigan has to offer! We traveled in comfort on a Cardinal Bus and visited 12 Corners Winery, Round Barn Winery and Brewery, Cultivate Brewery and Gravity Winery.

Green Earth Electronic Recycling Tour on June 2015

We would like to thank Green Earth Electronic Recycling for allowing us to tour and drop off electronic materials last month at their tour!

The electronics that are accepted for recycling includes anything with a cord or that runs on batteries. There is a $5/computer monitor hazardous waste fee, and a $10/CRT television hazardous waste fee due at time of collection. Call 269-326-1232 with questions about electronics recycling.

Click here for their website!

Green Earth Electronics Recycling is located at: 3621 Tennis Court, St. Joseph, MI

Earth Day Event at Sarett Nature Center April 2015

Thank you Sarett Nature Center for being such great hosts! Also thanks to Berrien Conservation District for donating trees for us to plant!


Meijer's Sustainability Presentation at Green Lunch in March 2015

We had a great speaker: Erik A. Petrovskis, PhD, PE, Meijer's Director of Environmental Compliance and Sustainability.

Meijer is a family-owned company with stores throughout Michigan and the mid-west. Meijer "strives to make green business choices by building safe, energy efficient, environmentally friendly stores, distribution centers, and offices".

Mr. Petrovskis provided an overview of Meijer's sustainability initiatives and the criteria used in the building and remodeling of its stores. He focused on the LEED certified construction techniques used when the local South Haven Meijer store was built in 2014.

Annual Business Meeting and Legislative Update on February 6th 2015

We had a great keynote speaker James Clift who is the Policy Director at Michigan Environmental Council, where he coordinates work on clean energy, air quality, water protection and public health.

We thank our panel, Al Pscholka, State Representative, Aric Nesbitt, State Representative, Adam Mensinger District Rep for State Senator John Proos, and Dan Scripps, President of Energy Innovation Business Council.

We also thank our Legislative Panel Moderated John Harris.

We thank our Event Sponsors Lake Michigan College Career and Workforce Education & Indiana University South Bend.

Green Lunch on the Clean Energy Coalition with Sean Reed presenting!

On Wednesday November 5th 2014 we had a presentation from Sean Reed! Who is the executive director of Clean Energy Coalition, an Ann Arbor-based non-profit organization he founded in 2005. Clean Energy Coalition builds public/private partnerships to advance clean energy technologies and build healthier communities by helping municipalities, businesses, and individuals understand the wide variety of opportunities for reducing dependency on fossil fuels and boosting energy efficiency. Mr. Reed has successfully acquired, managed, and completed more than 40 state and federal grants valued at more than $60 million. Before founding Clean Energy Coalition, he served as a program developer and energy analyst for the City of Ann Arbor's Energy Office and the joint City of Ann Arbor/Washtenaw County Community Development Department. Mr. Reed has presented on the topic of energy efficiency at numerous statewide and regional conferences in Michigan. Born in Malawi, Africa, he has traveled and worked widely, living in Africa, Asia, and Europe. He holds a bachelor's degree from Muhlenberg College in Allentown, Penn., master's degrees in social work and urban planning from the University of Michigan, as well as certificates as a housing rehabilitation specialist and home energy rater.

To learn more visit them on the web at:

http://cec-mi.org/

Krasl Art Center for Green Drinks on October 2014

Local artists Joshua Mason and Brittany Stecker gave a short presentation on sustainable art practices. Mason, whose work is also the current artlab installation, they discussed environmental issues around disposable objects and how those materials now form layers in the earth similar to geologic formations.

Stecker, who is Mason's wife, presented on how the two work together to create and promote sustainable art.

Visit them on the web:

www.krasl.org

Solar Power event on Sept 4th 2014

This was our first Joint Meeting with the Southwest Michigan Sustainable Business Forum AND Michigan's Great Southwest Sustainable Business Forum!

At this event we got an overview of current legislative conditions that support solar projects, a basic understanding of the solar installation process, and an owner perspective on the benefits of existing solar installations in Southwest Michigan.

We had great speakers: Art Toy from Four Elements Energy Check

out Four Elements' new video here!

,Dan Scripps with Michigan Energy Innovation Business Council and also Mike Linsea the President of Solar Winds Power Systems!

Green Lunch on Food Waste Composting

That took place on August 6th 2014.We had a guest speaker Beth Clawson from Michigan State University Extensions She addressed our group on food waste composting and what businesses would need to do to set up for food waste recycling in addition to their regular recycling program.

Michigan State University Extension supports composting and recycling as an environmentally sustainable practice for homes, farms, businesses, and industry. Composting and recycling are important steps taken to complete a product's life cycle. Whether products are grown naturally or manufactured, compost is the easiest and least expensive solution to managing our organic waste; especially our food and yard residues. The cycles of decomposition are a part of our natural world, and is a key part to enriching the soil. Composting is simply where we control the decomposition process to speed it up. By recycling we contribute to a sustainable system that benefits our environment by reducing pressure for new raw materials.

For more information on MSU compost and recycling click here!

For information from the EPA click here!

Green Lunch on Bus Transportation, Transit, and Trails on June 4th 2014

We had the opportunity to hear Evan Smith from City of Niles Dial a Ride speak about Transportation and the imporatance of providing public transportation to the community. We also had Debra Panozzo a Mobility Consultant. Debra helps improve connections to enhance transportation in southwest Michigan, especially targeting people who are seniors, have a disability or have low incomes. We also had Kerry Wright from Harbor Shores speak about their recreation and trails opportunities.

To learn more visit:


www.mywaythere.org




Green Lunch on Sustainability 101
This event took place on Wednesday, May 7th, 2014 With featured speakers Mike Keen & Krista Bailey from the Center for a Sustainable Future, IU South Bend
The Center for a Sustainable Future is taking the lead role in further turning IU South Bend into the ideal green campus: one that has turned itself into a learning organization in which every person on campus understands the basic principles of sustainability and is putting them into practice one step at a time.
Since it's establishment in 2008, the Center has developed new sustainability curriculum, facilitated research in sustainability, and fostered civic engagement to help develop sustainability action plans.
The Center strives to engage the campus and greater Michiana communities in creating a future focused on the "triple bottom line:" choices that are good for people and the planet, as well as profits, and that take into account ecological and social performance, are promoted and encouraged by the Center.
For resources on sustainability please visit:
www.iusb.edu/csfuture/resources.php




Michigan's Blue Economy Event in March 2014 at the Saugatuck Center for the Arts!
We had a great joint event with the West Michigan Sustainable Business Forum! With wide variety of great speakers! Our main speaker was John Austin the Director with Michigan's Economic Center. He discussed Michigan's "Blue Economy" and how the economic impact of water-based activities could position the state to be a world leader in smart energy, clean water, healthy food, and transportation technologies.

We also had a presentation from Gordon Grove, Marrone Bio Innovations. He discussed how the rapidly growing biotechnology startup chose Southwest Michigan for its expansion and highlighted a new product aimed at eliminating Zebra Mussels.

For more information about the West Michigan Sustainable Business Forum visit: www.wmsbf.org


Green Lunch, March 5, 2014 Community Supported Agriculture, was a great success!
What a privilege to live in Southwest Michigan, with its vast variety of fresh produce made available by dedicated local, Farmers. These dedicated Farmers were on-hand at the March 5th Green Lunch to showcase the various routes of access to all this wonderful, locally grown food, flowers, etc. Get all the information you would ever want to know about access to locally grown food at www.eatlocalberrien.org.
A big "Thanks!" goes out to the representatives from 7 local farms & markets who shared their wealth of knowledge and obvious passion for growing and providing food for people at Green Lunch:
▪ Andrews Student Gardens, Berrien Springs
▪ Big Head Farm, Benton Harbor
▪ Green Spirit Farms, New Buffalo
▪ Molter Family Farms
▪ Nye's Apple Barn, St. Joseph
▪ Piggott's Farm Market, Benton Harbor & St. Joseph
▪ St. Joseph Farm Market, St. Joseph


Green Lunch November 2013 with two great speakers on ways to green up the Holidays!

Marilyn Mussman from Chartreuse Art Coop (www.chartreuseartgallery.com) showcased her creative up-cycled clothing made from materials and clothes that were destined for the landfill. She also highlighted other local artist's mixed media and recycled-content creations. Shopping locally and supporting local artists can make your home/office decorating more "green" as well as inspire some creative gift giving during the holiday season.

Rich Daniels also joined the group to talk about his local business, FunPak Premium Packaging (www.thefunpak.com). Rich passed around samples of this non-toxic, dog-bone-shaped packing material that is made from corn and is 100% biodegradable. The FunPak website lists ways to get this eco-friendly packing materials for your gift giving and mailing needs. Fuzzy Butz Pet Bakery in downtown St. Joe also carries some for sale. The diverse Green Lunch crowd of 27 people enjoyed a delicious lunch at Papa Vinos in St. Joe and plenty of interesting conversation.
Green Lunch Event: the Hickory Creek Watershed Partnership
Michigan's Great Southwest Sustainable Business Forum hosted a green lunch on Hickory Creek Watershed Partnership. This event took place on June 5th, 2013 at Cravings Bistro & Pub 1599 Mall Drive, Benton Harbor, MI 49022.
Marcy Colclough with the Southwest Michigan Planning Commission talked about how communities have come together to improve Hickory Creek. This creek is a cold water stream that supports trout, but recent monitoring of Hickory Creek has indicated that the health of the stream is trending towards poor. It will take actions from landowners, business owners and government officials to improve the creek. Learn about efforts to date and what is on tap for this summer.
To learn more visit: http://www.swmpc.org/hickory.asp

We had a great sustainability event on May 22nd Featuring American Electric Power and Whirlpool!
AEP is working to partner with you to lower your utility bill! We had a tour of the New Whirlpool Riverview Campus a LEED Certified Building!
This event took place Whirlpool's New Riverview Campus! 600 West Main Street. Benton Harbor, MI 49022.
We had speakers from American Electric Power (AEP) and Whirlpool.
Sandy Nessing Managing Director, Sustainability & ESH Strategy & Design with AEP will spoke about AEP's sustainable journey, alternate energy sources and incentives. Sustainability has many definitions, but at its core is a vision we all share: broad prosperity, a clean and healthy environment, and vibrant communities in which our families, neighbors and children can thrive. She spoke on AEP's experience with energy efficiency, environmental performance, innovation and community engagement demonstrate that sustainability is a core business value that brings with it new opportunities for growth.
Jeff Gibson a Senior Category Manager at Whirlpool with responsibility for connected solutions including Smart Grid functionality. Jeff will spoke about Whirlpool's first Smart appliance suite that launched in March 2013. Also he will provide a demonstration of the Smart application that gives consumers control of their appliances as well as energy information. He will also talked about the future potential for how connected appliances can impact energy behaviors and usage.
We thank whirlpool and our speakers for making this event great!
Green Lunch Event: On Conserving Water on May 1st 2013

Michigan's Great Southwest Sustainable Business Forum hosted a Green Lunch on conserving water.
The speaker was Al Weber from ETNA Supply he talked about water metering devices and conserving water for business and individuals.

If you would like to know more feel free to email aweber@etnasupply.com or visit www.ustsupply.com

Green Drinks at Journeyman Distillery Green Drinks on April 17th 2013
Journeyman Distillery is a great sustainability story unfolding in the heart of Michigan's Great Southwest. This entrepreneurial business is just 18 months old, but has focused on being a sustainable business since its start!
From its location in a 100+ year-old reclaimed factory to its products and its food service, this is a sustainable business in every sense! Located in a portion of the old Featherbone factory in the heart of Three Oaks, Journeyman carved out a beautiful spot using reclaimed lumber found on both a family farm and in the Featherbone building. The spirits (and they produce many!) are made using only organic ingredients sourced from the Midwest. The Tasting Room also offers a number of food items, all made with ingredients from local farms.
To learn more visit
http://journeymandistillery.com/
Green Lunch on Community Supported Agriculture (CSA) on April 3rd 2013 !

Summer harvest is just around the corner. We got a chance to speak and meet with different farms located in Southwest Michigan at Cravings Bistro & Pub 1599 Mall Drive, Benton Harbor, MI 49022!
Big Head Farm, Molter Family Orchards, Oakhill Farms, and To Your Door Produce are the four the farmers that were there.
Just imagine how wonderful it would be to have fresh local produce weekly, for far less than you would pay at the supermarket.
This event made the front page of the local newspaper click here to view it!
At the Green Lunch we discussed how the CSA works and why there really isn't a better value out there then to buy your Fruits and Veggies straight from the farmer. All farmers shared pricing and were able to discuss the varieties of fruits and vegetable they are growing for this season's harvests as well as their predicted start dates for the distributions and the approximate length of the harvest they are planting.
Event at Green Spirit Farms March 27th 2013 about A New Direction for Agriculture!
Green Spirit Farms is located at 18300 U.S 12 New Buffalo, MI 49117. Milan Kluko, President and founder of Green Spirit spoke and gave a tour of the facility along with the Jeff Foote the Director of Customer Sustainability for the Coca-Cola Company.
Green Spirit Farms grows organic pesticide free vegetables and herbs 24/7 using innovative Vertical Farming technology provided by Omega Garden. The indoor vertical farm can produce harvests all year long, using less water and energy than traditional farming. They use recyclable and compostable containers for their packaging. This farm is located in a former industrial brownfield site where it provides local produce to Southwest Michigan.
There was a great lunch including pasta with Green Spirit Farms tomatoes and a "Spirit Mix" salad! The meal was prepared by The Organic Gypsy who did a great job.
Check out the video to learn about Green Spirit Farms and Sustainability!
http://www.youtube.com/watch?v=N-jDbb5I940


This video was shown at the event! If your business is interested in having a video email info@mgssbf.org for more information.
For more information visit: http://www.greenspiritfarms.com


RECYCLING 101 WORKSHOP November 8th 2012
Teachers, students, waste and recycling haulers, business leaders, and parents interested in recycling at school were in attendance at the November 8th "Recycling 101" workshop at Berrien RESA in Berrien Springs. Speakers outlined a number of ways a school can start recycling or improve an existing recycling program, including how to get students directly involved and program funding options. John Fairchild from Mattawan Schools and Mary Ann Milletics from St. Joseph High School, along with a St. Joe High School student, shared first-hand knowledge of the challenges of recycling at school and the great successes both schools have seen resulting from their programs. Click below to view the presentations from this workshop. Contact the event speakers with questions about recycling in schools. The application for the Spring 2013 Berrien County School Recycling Grant is available at www.berriencounty.org/recycle/SchoolRecyclingGrant.
Roger Cargill, Special Events Manager, Schupan Recycling
Roger Cargill, rcargill@schupan.com Becky Kliss, President, Green Connection, Inc., greenconnectioninc@gmail.com Jill Adams, Berrien County Environmental Specialist, jadams@berriencounty.org
Thank you to Schupan Recycling for sponsoring the Recycling 101 workshop. Click here for a link to the Berrien County presentation; click here for a link to conducting a school waste audit, and click here for Schupan Recycling's presentation.

Green Lawn Care for Fall - A Green Lunch Presentation October 3, 2012

Presented by: Kathy Antaya, Certified Golf Course Superintendent
Sustainable Lawns and Turf: The Golf Example
Turf grass consists of lawns, sport fields, parks, roadsides, etc. Turf grass provides aesthetic value, security, cooling effects, dust control, and provides a multi-purpose surface. The turf industry has an annual value of $35 billion.
In 1998 the MI Turf Grass Environmental Stewardship Program was established. Kathy assists Michigan green industry businesses with environmental regulatory compliance and natural resource protection through this program. Kathy is a certified Golf Course Superintendent and works with many golf courses around the state. Out of the 800 golf courses in Michigan, about 300 are certified through the program. Kudos to Harbor Shores Golf Course for being the first golf course to be certified before opening day. The MTGESP provides resources to help golf courses incorporate best management practices that will benefit the core of sustainability: People, Plant, and Profit. Another program helping golf courses strive for best sustainable practices is called Golf's Drive toward Sustainability program, and can be searched on-line for more information.
Kathy provided a list of best/sustainable management practices for personal lawns as well, depending on what type of lawn is desired. Here are some general tips to follow at home: mow at 4-5"; return clippings to the lawn; fertilize in early Fall and late Fall; apply fertilizers based on soil test outcomes; spot treat for weeds in the Fall; monitor pests and treat only if needed; and to keep a lawn green, apply 1" of water each week (other measures can be taken during severe drought). Learn about crabgrass control at
http://turf.msu.edu/crabgrass-control-in-home-lawns
. Contact Kathy at
616-450-1884
or email
kantaya@msn.com
.


Energy Efficient Lighting September 12, 2012
Thank you to Whirlpool for sponsoring the program. Ron Voglewede from Whirlpool Corporation opened the program with a snapshot of the countless ways Whirlpool is reducing their carbon footprint, leveraging alternative power sources, and approaching many other sustainability efforts Corporation-wide. Between 1980 and 2010, energy consumption in a typical home from appliances went from about 60% of a home's overall energy use down to less than 16%. New technologies, philosophies and approach to designing appliances by Whirlpool has played a huge part in this phenomenal change.
Ron Greulich, Operations Manager at Shepherd Caster Corporation, shared how his facility's $50,000 project to switch to more energy efficient lighting, resulted in a safer working environment, boost in employee morale, enhancement of customer perception of the facility, and 5 month return on investment. Shepherd Caster Corp. in St. Joseph employees 75 people, runs 2 shifts, and has an 110,000 square foot facility. Unique factors that Shepherd's facility had to contend with are varying ceiling heights throughout the facility; potential fire issues in storage area from hot, broken bulbs; need for proper light for color matching; and varying occupancy numbers between shifts. Working with a lighting vendor, Shepherd Casters mapped out a lighting plan, ran calculations using a variety of lighting options, and experimented with the specific lighting that would work best in their unique facility. Through AEP/Efficiency United, they were able to take advantage of rebates for energy efficiency upgrades, as well as receive tax credits to achieve the 5 month return on investment. Mr. Greulich said he and the staff at the facility couldn't be happier about the upgrades made to the lighting. For more information, Ron can be reached at rgreulich@shepherdcasters.com.


Geordie Ralston of Coral Performance Lighting said most lighting upgrade projects they perform result in a 48% - 52% reduction in energy costs to a company. Lighting upgrade projects include a Computer Aided Design (CAD) layout of the facility, filling out rebate application and paperwork, testing and experiments in facilities to discover the best lighting option, installation of the new lighting, and follow up studies. Coral manufacturers their own lighting fixtures to best fit each customer's facility with a 4-8 day turnaround time, and the fixtures are delivered to the customer fully assembled. Mr. Ralston presented 2 local case studies: Mach Mold lighting upgrade resulted in an $11,500/year savings in energy costs and 52% reduction in energy consumption; and Hanson Mold lighting upgrade resulted in a $21,500/year energy cost savings and 47% reduction in energy consumption. Geordie can give your business a quote - contact him at ggordonr@aol.com.
Locally Sourcing What You Eat - A Green Drinks Event August 15, 2012
Participants learned from area experts how to effectively source local foods for businesses and schools. Speaker Scott Wall of New Age/Landmark discussed farm-to-school and farm-to-hospital programs, while Jay Marcoux, owner of South Haven Catering and Cafe Julia, explained the process for and benefits of locally sourcing foods for area businesses, including processes needed for future growth.
Sustainability Talk and Tour at the Pokagon Community Center May 2, 2012
On a sunny May 2nd afternoon, 52 members, guests, and residents were in attendance at the MGSSBF presentation and tour of the Pokagon's 8,500 square foot, LEED Gold certified Community Center in Dowagiac. Mark Parrish, Director of the Pokagon Band Department of Natural Resources spoke about the cultural significance of the Community Center, the building materials used, and the importance of protecting the surrounding environment upon construction. Matt Davis and Chris Brayak of Wightman and Associates, Inc. outlined the process of obtaining the LEED Gold Certification through the U.S. Green Building Council and highlighted many of the attributes about the building that earned the Gold rating. Many of the sustainable attributes could be seen in the spectacular community room where the meeting took place such as energy efficient lighting, use of natural light, insulated glass, composite countertops, wood trim from on-site trees, and recycling collection systems. Through the large East and South facing windows, attendees saw the native landscaping, dedicated open space, porous pavers, carpool parking, and many other aspects on the exterior that helped earn LEED credits. A tour followed the presentation where attendees learned more about the HVAC system, passive solar energy design, and the surrounding neighborhood. More information about the Pokagon Community Center and its sustainable characteristics can be found at
www.PokagonCommunityCenter.com
Community Supported Agriculture (CSA) Green Lunch March 7, 2012

The brand-new Buck - Burgers & Brew in St. Joseph was the scene of an extremely popular Green Lunch event. Nearly 70 people turned out to hear about local CSA options and how to take advantage of "eat local" opportunities. Many thanks to host Ken Kozminski (pictured below) and the following CSAs that participated: To Your Door Produce, Eaters Guild, Oak Hill Farms Walker's Fresh Veggies, Molter Family Orchards. To learn how you can participate,
click here
.
Annual Meeting with State Sen. John Proos January 27, 2012

During the MGSSBF annual meeting, the Forum welcomed 4 new Board Members: Ken Flowers, Lake Michigan College; Frank Kirschner, I.E. Hampton & Associates; Dave Montayne, CPA; and Quinn Tabbert, Lake Michigan College. Senator John Proos spoke with the membership about sustainability issues facing Michigan including the emerging green economy, short-term & long-term energy needs in Michigan, agriculture and local foods issues, and use and protection of Michigan's natural resources.
Leadership in Energy and Environmental Design - Whirlpool Campus Program & Tour Nov 2, 2011
A very successful MGSSBF event turned out up to 80 participants who toured Whirlpool Corporation's newest office campus in Benton Harbor. Having broke ground only 1 year ago, MGSSBF was excited to be the first group to take the tour of the new campus on November 2nd. Donald Vitek, Director of Global Real Estate for Whirlpool, spearheaded the panel of speakers that drilled down to discuss and explain the details that were involved for Whirlpool to be pursuing their LEED (
L
eadership in
E
nergy &
E
nvironmental
D
esign) Gold Certification. LEED is an internationally recognized green building certification system through the US Green Building Council that allows for practical and measurable green building design, construction, operation, and maintenance solutions. (For more information on LEED visit
usgbc.org
).
The new Whirlpool Corporation campus will have many green features such as: maximizing open space; stormwater quality control; heat island effect; energy efficiency & commissioning; green transportation (including installing electric car charging stations!); water use reductio; increased ventilation & CO2 sensors; recycling program & recycled content; in addition to other green features. Don and his team emphasized the importance of taking the ROI (return on investment) into consideration when making decisions. That looking at the long term paybacks with implementing some of the campus's "green" features is paramount.
Click for Whirlpool Presentation.
The Benton Harbor downtown campus will be the first LEED Gold Certified building in the Benton Harbor/St. Joseph area. This sets a milestone for future buildings to take the leap to become LEED Certified. The 245,275 square foot facility will end final completion in 2013.
Click for here Whirlpool Educational Tour Map.


Overcoming Recycling Roadblocks Oct 19, 2011
MGSSBF's October 19th Recycling Roadblocks event & business expo helped pave the way to removing the roadblocks for anyone trying to recycle in their business, and work towards a successful program. Bill Gurn, from Haworth, spoke on how Haworth took steps toward a obtaining a ZERO WASTE program!! All of their waste is diverted in some way to be reused or recycled. Bill explained the importance of support from upper management to require implementation of a recycle program or this would not have been possible. The entire organization's team needs to be on board and educated regarding the positive outcomes and benefits of a company wide recycle program. Bill also spoke on the
Michigan
Recycling Coalition and the benefits they provide to Michigan companies (
http://www.michiganrecycles.org/
) on reducing their waste. Contact Bill Gurn at
bill.gurn@haworth.com
; phone 616-
393-1215.
Click here for Bill's presentation
.
Becky Kliss, from Green Connection, shared the results of two local Waste Stream Audits performed at Chemical Bank &
Berrien County
Courthouse with their Green Teams. The primary way a business needs to begin or advance with recycling is to find out and know "What is in your waste?" These two local companies actively participated with Green Connection in facilitating these audits. Each learned that a waste stream audit isn't as painful as they thought. The information obtained in such an audit, is a tool to use both with your waste hauler and internally with employee training needs. At the same time is a way to save money by identifying and implementing areas of change! Becky encourages all businesses to try this. For more information on how to get a Waste Stream Audit process set up for your company contact Becky Kliss at Green Connection: Email:
becky@GreenConnectionInc.com
or phone
269-849-6226. Click for Becky's Build a Green Team presentation.
Bob Havenga, of Reliable Disposal, & Henry Valkema, of
Michiana
Recycling & Disposal, teamed up to share their waste & recycling experience-even though they are competitors! Both companies are Founding Members of MGSSBF and believe in doing the right thing. They encourage businesses to partner with their waste hauler, get their support , and include them in helping find solutions for reducing waste. They too reinforced that a good program must start from the top down in a company and how important it is to know what is in your waste (through conducting a waste audit) so they can better guide you. In addition, for those remodeling or building a new facility, don't forget about dumpster space & how a big waste truck must be able to maneuver to pick up your waste!! Bob Havenga, Reliable Disposal: Email:
havenga@republicservices.com
or phone
269-465-3773.
Henry Valkema, Michiana Recycling & Disposal: Email:
Trash025@aol.com
or phone 269-684-0900.
Click here for Bob and Henry's Presentation.



MGSSBF would like to recognize and give special thanks to Michiana Recycling & Disposal for sponsoring this event.

Located at 33541 Reum Street, Nile, MI--Michiana Recycling & Disposal is a recycling and garbage collection organization. The Green services they offer include FREE recycling pickup for ALL Residential and Commercial customers, as well as, yardwaste pickup for ALL Residential and Commercial customers.

Local Foods and Bus Tour Sept 21, 2011
A very successful and enjoyable Know Your Growers Local Foods Educational Bus tour on Sept 21, featured speaker and tour guide Ron Goldy, Extension Educator, SW District Agriculture (Vegetables) of MSUE. Ron spoke to a bus load of approximately 25 attendees, sharing his vast knowledge of agricultural facts and fiction. Such as, organic foods do not necessarily taste better or more nutritious. Ron explained that"organic" though thought to be products that have never been sprayed/fertilized is a myth. In fact, he explained that organic practices can't ensure that products are completely free of residues; however, methods are used to minimize pollution from air, soil and water, with the goal to optimize the health & productivity of interdependent communities of soil life, plants, animals and people. (National Organic Standards Board, April 1995). Ron stated that local is more important than organic today as many consumers do not like the sterile environment in grocery stores, relationships/trust are not developed, local hasn't traveled as far, and the desire for a closer connection to our foods. He spoke to the idea to develop a "Buy Smart" philosophy and a relationship with your local farmer. Building trust and sharing knowledge with your local farmer is the way to go. Make it your responsibility to know what is in season, did the farmer grow what they are selling, if not-who did; when was it harvested, as taste and nutrients go down after harvest; how was it stored/handled, as this too can influence nutritional value and taste. Ron's contact information is 944-1477 x207 goldy@anr.msu.edu. Click here for Ron's Q & A Handout.
Eric & Dana Lee's Edge of the Woods Farms was the first tour stop. The Lee's graciously shared their process in making maple syrup, including the trek to the trees to retrieve the 50-60 gallons of sap, that are brought back to the sugarshack, where multiple cords of wood are used over 12+ hours in order to make 1 gallon of maple syrup. The Lee's allowed the group to tour the sugar shack and Dana's kitchen, as well as step into the barn for enlightening details of their chickens and eggs. The
Lee's have been involved for a number of years with CSA -Community Supported Agriculture. This is a great program in which the consumer pays up front to the local farmer for the products they will receive through the season. Typically these can be sold as full or half shares, with full shares from $300-$600. By providing up front funds allows the farmer to have available capital when they need it. Most CSAs are seasonal, but some are year round. Visit Edge of the Woods Farm at 15684 Three Oaks Rd, Three Oaks, MI or edgeofthewoodsfarm.net


The second stop was at Kaminski Farms Meats (Dave and Linda owners.) Linda Kami
nski spoke to the group sharing that she was not raised a farmer's
daughter, rather fell victim to a handsome farmer's face. She then grew her love and passion for farm life. Over the last 8 years Kaminski farms has been working with other farmers to provide the purest and highest quality of locally grown beef and pork. Linda explained that each farm has a particular responsibility to the evolution of these animals. Being that each farm is set up to care for these animals at a particular cycle in their lives. Linda explained that their stock is corn fed, as this allows for a faster developing produce that can be processed in one year. She explained that grass fed stock develop slower (two years) and meats do not have the same marbelization as produced with corn fed stock in one year. Kaminski farms sell farm fresh beef and pork at their
on site store. They also can supply special order requests for cuts. Visit or contact Kaminski Farms at 16682 Schwark Rd, Three Oaks, MI, 269-756-7457, kaminskifarmsmeats.com
Kaminski Beef & Pork Meat Store
The tour began and ended at Round Barn Winery in which attendees of the bus tour and new comers for Green Drinks were able to enjoy the cozy environment of the sustainable round barn itself which was saved and relocated from it's original site, as well as samples of the many luscious wine samples Round Barn produces. Visit Round Barn Winery at 10683 Hills Rd, Baroda, MI.


The Mendel Center Masters Green Lunch Sept 7 2011


Quinn Tabbert, Mendel Center Food & Beverage Manager, spoke to approximately 20 Green Lunch guests of MGSSBF to share Mendel Center's practice of healthy habits with local foods.

Quinn shared helpful tips such as:
Look at LocalHarvest.org for sources to get involved in a CSA (Community Shared Agriculture) program to purchase fresh produce

Find out what specific farmer practices are that you buy from-this will provide peace of mind that your food is coming from a healthy source that you can count on

Quinn recommends buying items when they are in season (in bulk) and freezing them to utilize year round (LMC offers food preservation classes as well)

Google on Utube "Food for all Seasons" and you can see the Mendel Center's local food process
The guests raved about the meal prepared by the Mendel center which was made fresh and local products. Quinn answered many questions from the group on how to purchase healthier local foods, and she spoke to the obstacles that are in front of us and our local restaurants to do so. Quinn also emphasized The Mendel Center's choice in Kaminski Farms for their beef. (Kaminski Farms is one of our stops on the September 21st Local Foods tour)
Green Your Supplier June 15, 2011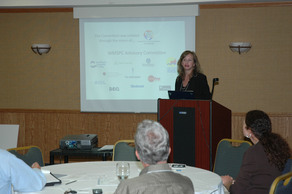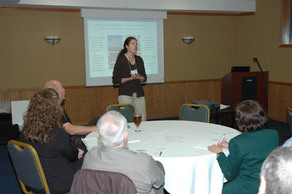 The June 15th event on Sustainable Purchasing provided great ideas for everyone. Abby Corso from the Delta Institute in Chicago spoke on generalized purchasing guidelines that anyone can start with:
1) Know where your item is coming from geographically (buy local whenever possible)
2) Request less packaging when applicable
3) Know what you are going to do with the item when your done with it--are you paying to get rid of it, even if through your waste hauler fees?.
Abby highly recommended visiting the website: Buyingbetter.org and reviewing her presentation, that includes the seven sins of GreenWashing.
Mary Ellen Mika spoke on the West Michigan Sustainable Purchasing Consortium, and that any business can join for free & take advantage of the benefits; website is wmspc.org.
Steve Beurkens from H & L Advantage, cut right to the chase with when you think your trash is "going away", that there is no "away", it has to go somewhere. He highly encouraged a dumpster dive audit to know where your at now with your trash, as that tells you what your buying/using, as well as 5S'ing your facility even if you are not going for certification. He also stressed the importance of finding out where you;re at now with your purchases so that you can benchmark your progress against others....a good resource they found : US Environmental Protection Agency (EPA) and Michigan Department of Environmental Quality (MDEQ)
Click here to see event flyer.
Click here to see Mary Ellen Mika & Steve Beurkens Powerpoint presentations.
Click here for Mary Ellen Mika's green purchasing decision matrix Excel worksheet that you can use to tailor to your business.
Click here to see Abigail Corso from Delta Institute's Powerpoint presentation on green purchasing guidelines.



John Patten Plug-In Car May 2011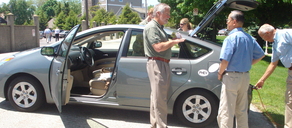 MGSSBF was proud to have John Patten, of Western Michigan University, speak on his nearly 20 years of experience with Hybrid/Electric cars. Patten has even done vehicle testing using a wind turbine to recharge his plug-in car and has tracked much data to analyze the performance and potential savings.
On moderate temperature days (60-70F), his plug-in car has averaged over 100 mpg in electric mode and has gotten as much as 240 mpg for a single trip; on colder temperature days (0-10F), it gets a minimum of ~50 mpg on fuel; on battery power it costs him between $0.50-$1.00 per gallon of gas equivalent (considering paying for the electricity used to charge the battery pack) to drive it. The 25 guests in attendance had many questions for Patten, including inquiries related to the Hybrid vehicles out now, of which Patten said to hold tight. He personally is waiting a year until other vehicles are available for comparison. i.e. the new Toyota Prius will be out in a year, which has advanced technology to offer.
One caveat Patten offered, based upon over two years real world driving experience with his current plug-in hybrid electric vehicle, is to consider that most of the miles driven would actually be in gas mode (e.g. most longer trips); his data indicates that about 2/3 of his personal driving (commuting and other trips) is in gas mode and 1/3 in electric mode.
The highlight of the end of Green Lunch was the tour of Patten's plug-in car. In addition, Patten, along with Nathan Christensen of WMU, and other faculty and students, have started the Green Manufacturing Initiative for Michigan companies. For more information on this to go to: http://www.wmich.edu/mfe/mrc/greenmanufacturing. If you would like more information about the plug-in hybrid vehicle program and the associated wind charging system, visit WMU energy web site at: http://www.wmich.edu/mfe/energy/phev/index.php.





Energy Efficiency $avings April 27, 2011

When we completed our last survey, Energy Savings was the most requested topic. With energy costs rising and Indiana Michigan Power being one of MGSSBF's Founding Members, our response was to put together a program that answered many energy saving questions. Efficiency United, who represents various utility companies, including Michigan Gas Utilities, Midwest Energy, Semco, & I & M, spoke on ways to receive rebates and incentives from upgrading (almost) anything electrical in your facility, especially lighting & large equipment. Wightman & Associates, shared the various technologies to do an Energy Audit of your facility, as well as many rebates that you can earn through various sources to upgrade your lighting & electrical equipment. Demonstrations of the energy audit equipment were held on site at Wightman & Associates, so hands-on experience was a bonus!
Click Here for Event Flyer
Click Here for Efficiency United's Presentation Alan McLeod 877-367-3191 amcleod@franklinenergy.com
Click Here for Wightman Presentation Andy Mollison 269-927-0100 amollison@wightman-assoc.com


Making a Case for Sustainability--Case Studies March 2011

Eighty people attended the kick-off meeting for our official change to be known as 'Michigan's Great Southwest Sustainable Business Forum'. It was held at LMC's M-Tec facility in their technology room where they work on such items as wind turbines & solar projects. Sam Volkner, instructor of this department, was able to hook up the Powerpoint projector to run off solar panels for the presentations--impressive! David Rinard of Steelcase, Founding Member & Board Member of the Grand Rapids Sustainable Business Forum (WMSBF) spoke on the benefits WMSBF has brought to their business members. David added the importance of being involved for local companies, as the SBF's goal is to stay "grass roots", and be about the local businesses. Renae Hesselink of Nichols spoke on their LEED-EB Gold certification project and Darcy Nelles-Serba of Stryker Medical spoke on their LEED-EB Silver project, which is in the top five Manufacturing firms in the United States to earn a LEED certification. Both Renae & Darcy gave numerous examples on ways to save costs, reduce waste, & minimize health & environmental impacts to the building occupants, from simple to complex items to implement, with the bottom line that you don't have to be pursuing LEED to make changes for the better. Bob Harrison, of Lake Michigan College, closed with why LMC made the committment to become a Founding Member of Michigan's Great Southwest Sustainable Business Forum and then offered a tour of M-Tec and their 'Tiny House' to see all the innovative projects that M-Tec does with their students.
Click Here for Event Flyer
Click Here for Nichols Presentation
Click Here for Stryker Medical Presentation
Click Here for M-Tec Information






Green Roof's & Michigan Tax Incentives for Environmental Projects Nov 2010

It is an amazing asset to have in our community a Green Roof that is not only beautiful & educational, but most importantly, saving the Curious Kids' Discovery Zone energy costs! Clifford's Perennial & Vine is to be credited for the amazing outcome, and their story was told at the gathering at the Silver Beach Center in the Discovery Zone. Clifford's has significant experience & knowledge in the 'green' landscaping/plants department and shared the many benefits to having a green roof. Robert Jackson from the State of Michigan spoke on many benefits of monies the State has to offer businesses for taking the initiative to implement projects such as LED lighting in parking lots or facilities, appliance rebates, weatherization assistance programs & so forth. Jill Adams of Berrien County also updated the group regarding monies the County has to offer schools toward implementing a recycling program.
Click Here for Event Flyer
Click Here for State of Michigan Presentation
Click Here for Clifford's Perennials, Green Roof design installer